Bitcoin Poker Sites
Seals with Clubs - Online Poker for BTC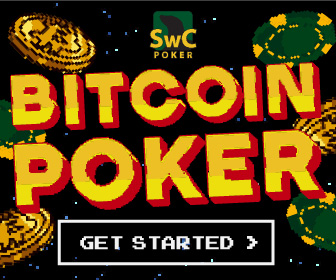 SealsWithClubs is the best online poker sites where all deposits and withdraws are done in BTC.
Other sites take BTC and uBTC but still play in USD or some other currency. This means that you cannot hold any cryptocurrency on these sites.
At Seals With Clubs, 1BTC is equal to 1,000,000 chips and your deposit is never converted to a fiat currency.
This means that as the BTC price changes, so does the value of the chips you have in your bankroll.
Where else can you play online poker for cryptocurrency AND build a portfolio of BTC and BCH.
SwC is the premier destination online to play No Limit Holden, Omaha and many other style cash games and toournaments.